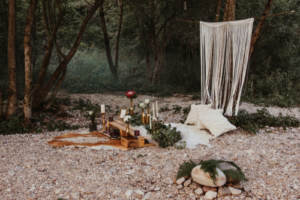 Wedding costs are steadily rising while social values rapidly shift. Marriage equality is part of the total picture, but frugality and the desire to break with tradition also impact today's trends. Elopement is becoming a more popular option, with modern couples adopting slightly different approaches to the practice. Is elopement right for you and your partner? Find out more so you can weigh your options.
Elopement Is Not an Intimate Wedding
Considering the size and scope of an elopement, some may confuse it with a small, intimate wedding. Wedding Wire's Kim Forrest clarifies that the two events are quite different. With the former, the couple can wed in a private location with no attendees. In contrast, a scaled-down nuptial celebration may have a small guest list and take place in a secluded setting. Surprise weddings require a "cover event" for unsuspecting guests to believe that they're attending a normal party, as New York Times writer Alix Strauss explains.
Weigh the Benefits and Disadvantages
Forbes writer Megan Gorman reveals that the average American wedding costs $33,391. A 2017 survey by The Knot disclosed that while LGBTQ couples spent less, they still dropped between $17,000 and $18,000 on their nuptials. Student loan debt can also discourage couples from spending a ton of money to get married. In her Forbes piece, Gorman remarks that elopement is slowly becoming a synonym for a wedding that's not exorbitant and won't incur significant debt for the new couple.
The numerous intricacies of wedding planning can also deter couples from hosting even small celebrations. Wedding Wire contributor Samantha Iacia mentions the difficulties of working planning into a busy schedule along with "sticker shock," meddling relatives, and uncooperative wedding party members. It's easy to feel as if you're trying to herd cats, and elopement may seem tempting if you're burdened by all these problems and details.
With that said, it's worth examining the pros and cons of eloping. The Spruce's Nina Callaway discusses the potential benefits. In addition to saving money, you could avoid family drama and the hassles of wedding planning. On the other hand, your family may feel hurt by your decision not to include them, and you could miss out on the opportunity to celebrate with your friends and loved ones. In the end, it's up to you to determine your priorities along with the course of action that best fits them.
Tips for a Successful Elopement
If you and your mate decide that elopement is for you, you still need to do some organization, research, and time management to make your efforts a success. Both Nina Callaway and Jenn Sinrich of Martha Stewart Weddings have some helpful tips:
Focus on destinations within a single region. For instance, narrowing down to California allows you to choose between SoCal, San Francisco, Napa Valley, and other areas.
Do your homework. You'll need to understand your options for vendors and amenities.
Don't forget to inquire about marriage license requirements at your destination. Besides finding out whether same-sex marriage is permitted in that jurisdiction, you should also understand rules concerning residency, witnesses, and waiting periods.
Be sure to set and follow a budget. Vendors may not necessarily be cheaper, and you'll need to budget in travel, lodging, and other expenses.
Don't overlook hiring a photographer. You'll still want to preserve the memories of your special day.
So Happy Together
The concept of elopement has changed somewhat from previous decades. Even so, it gives couples a chance to wed in a private environment while avoiding the inconveniences and price tag of traditional nuptials. Some planning is still required, but eloping can be a low-stress alternative that better fits your goals and needs.