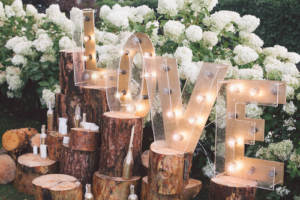 Sustainability is incredibly important in the modern day and age. By discovering practical solutions to wasteful problems, some amazing things can transpire. This is especially true of your wedding day. Whether you are someone who believes in the power of recycling or not, you stand to save a lot of money by exploring the idea of repurposing items for additional uses. One great way to achieve this goal is by taking a look at your shower decorations and seeing what can be reused on the day of your actual wedding.
By learning how to repurpose décor, you are giving yourself the opportunity to save a bit of money and experience less stress while planning. Take a look at these ideas to get started.
Go With Fake Flowers
Flowers are a key element in wedding décor. In fact, financial reports suggest that couples tend to spend roughly $1,200 on average for this feature. Of course, this cost tends to be high because couples usually want fresh floral arrangements for their big days. Selecting blossoms that are not currently in season can also add a significant amount to the floral bill. Though real flowers might seem like the best way to go, you can save a lot of time and money by exploring artificial options for your wedding.
The beauty of artificial flowers is that they will not wilt and decay on you. This means you can easily use the arrangements for your wedding shower and still utilize the same exact flowers when your big day arrives. While you might feel like you need the charm provided by real flowers, your budget will thank you for exploring cheaper solutions. Plus, you can repurpose the flowers yet again after your wedding by selling the artificial arrangements to another couple looking to save some money on their own décor.
Try DIY Decor
Recent years have seen a huge surge in regard to DIY décor. Thanks to websites like Pinterest and Etsy, more and more couples are opting to create their own decorations. In many cases, brides and grooms will experiment with various crafts in advance and attempt to use their creations for pre-wedding events like the shower. When you're thinking about DIY options for your decorations, then you absolutely must consider the benefits that come with reusing the same décor again on the day of your wedding.
Reusing the DIY décor you poured your heart and soul into makes total sense. You didn't spend countless hours painting mason jars with chalkboard paint to have them on display for only an hour or two, did you? Of course not. You want your hard work and dedication to shine through to all of your friends and family members. Any decorations you plan on making yourself for preliminary events like your shower should definitely be used again on your big day. You'll save some money and get the most from all of your hard work.
Various Odds and Ends
Honestly, anything you use for a pre-wedding event can have a place in your actual wedding. Did you purchase expensive cake toppers for an engagement party? Use them on your wedding cake! Friends and family members surprise you with a photo board of you and your significant other at the bachelor party? Put it on display during your reception. By reusing whatever possible, you can save money and breathe a ton of new life into items that might have only seen a single use otherwise.
Weddings and related events can cost a ton of money and involve countless hours of work. To make your life a lot easier and save some cash along the way, you might find it helpful to look at how you can repurpose décor from one preliminary wedding event and give it a second chance on display when you tie the knot.