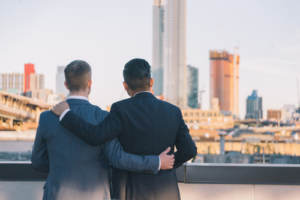 Rooftop weddings gained a great deal of popularity in 2018. Even in 2019, this trend shows no signs of stopping. Maybe you're in love with a gorgeous view from above or want a non-traditional way to celebrate your nuptials. Either way, you can decide whether a rooftop wedding is for you and plan a successful affair by following some useful pointers.
Elements of a Rooftop Wedding
The key element in a rooftop space is a venue with a roof appropriate for hosting events. The Knot points out that it's important to ensure you don't overlook some other vital items as you plan:
Sufficient lighting
Ample space for your guests
Appropriate outdoor décor
Weather-resistant furniture
With that said, you have many options for arranging your event. While the current trend mostly focuses on casual or semi-formal nuptials, your rooftop wedding can be as formal or informal as you like. Just make sure that you consider your venue when deciding on your formality level and attire.
Choosing Your Venue
With these lofty celebrations becoming increasingly trendy, you may find it somewhat difficult to track down the ideal location. Some of these places may be booked out for months or even a year. Keep in mind that a hotel with a rooftop offers many benefits. You can host the entire event on the roof or hold a ceremony in one of the ballrooms and move the afterparty to the rooftop, as Martha Stewart Weddings illustrates. Not only that, you have a nearby backup location just in case the weather doesn't cooperate.
Also, make sure you understand vital details about each prospective location. Scout out parking and restroom facilities and be prepared to give directions to nearby garages and lots as well as from parking locations to the venue itself. You should also consider seating capacity and know the rooftop's square footage so you can choose an appropriate dance floor. Also, don't forget about accessibility concerns for disabled guests. If there's no working elevator to the roof or not enough room for navigation with mobility devices, you may want to select another place.
Pay Attention to Crucial Details
Your venue is a prime part of your celebration, but you still have more work ahead after you choose your favorite spot. Much like planning an outdoor wedding in a yard or park, you'll need the right equipment to make it successful. Basic elements include chairs, tables, and tents, and The Knot mentions that these items should be weather-resistant. Leather and synthetic pieces are ideal, while illuminated furniture can withstand outdoor conditions and add fun visuals to your décor.
Speaking of decorations, it's wise to keep them to an absolute minimum. A few fresh floral arrangements and strategically placed lights add glamor to your event's look without detracting from surrounding scenery. Additionally, remember that high wind gusts can be strong enough to knock over or carry away some items.
Don't Forget Your Backup Plan
You're also going to need an alternative plan in case the weather turns foul. As mentioned earlier, hotels also have indoor ballrooms that can serve as backup locations. Restaurants with rooftop areas and indoor dining rooms are also great choices. Wherever you host, be sure to pick a venue in which it will be easy to transport items and usher guests from point A to point B.
When you're planning your wedding, choosing a memorable location is part of the fun. Rooftops have become trendy, but they also offer fresh air, natural beauty, and urban elegance. With careful research, you can find an ideal venue that's affordable and accessible. When arranging your event, be sure to select weather-resistant furniture, lighting, outdoors-appropriate décor, and a backup venue. Methodical planning will help you pull together a nuptial celebration that everyone can enjoy.