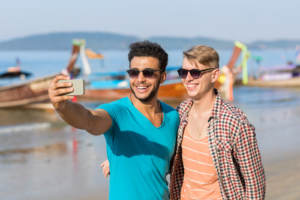 Just as you need a well-organized approach to planning your wedding, the same is true for your honeymoon. You can work with a travel agent or on your own, meticulously crafting an itinerary the two of you will love. Meanwhile, you may not think about how electronic devices and social media use could impact your time away until you're well into your getaway. How do you strike a good balance while traveling with your new spouse? Take heed of some sensible and expert advice to help you accomplish this goal and enjoy your trip.
Pics or It Didn't Happen?
Your honeymoon destination may be a picturesque wonder awash in natural beauty, filled with gorgeous architecture, and steeped in a rich local culture. Naturally, you're going to snap a ton of pictures, but when should you Instagram them or post them to Facebook?
Opinions differ on how to treat social media while you're on your post-wedding vacay. However, most recommend that you wait until you return home to share your memorable moments. Martha Stewart Weddings writer Cassie Neiden recommends that you snap all the pics you like but avoid signing in while you're in paradise. Checking your timeline for likes and reactions detracts from your ability to relax and spend quality time together.
With that said, you can focus on some great shots to take while you're at your destination. If you need some inspiration for terrific honeymoon photo ops, Wedding Wire's Lindsay Tigar has a few suggestions:
Your farewell at the airport
Wedding rings juxtaposed with your passport
Landmarks and scenic views
Unexpected surprises and impromptu moments
You could also include a champagne toast and your first breakfast together. While some of these pics will definitely be unforgettable, it's ultimately up to you to decide what goes online and what stays in your private collections.
Leave Your Laptop and Work Worries Behind
Staying off social media is one thing, but you should also definitely leave the laptop at home. This is especially true if you use it on the job, as you'll prevent the temptation to take your work with you. After all, you're supposed to be on vacation! If you absolutely must communicate with your coworkers and management, Neiden advises designating specific times to do so.
Don't Completely Disconnect From Loved Ones
While the point of your honeymoon is to get away and relish in quality time with your new spouse, you shouldn't leave caution to the wayside. Curve writer Lauren Bray mentions the need to stay in touch with your family back home, especially to tell them your trip details and let them know you're safe. Bray suggests using Travefy and WhatsApp, but others such as Life360 provide similar functionalities.
Speaking of international calling, you could face a hefty bill if you don't take advantage of low-cost or free services. At Money Under 30, Elizabeth Helen Spencer discusses smartphone SIM cards that make calls more affordable. A local SIM card or prepaid phone may be the way to go if you're staying in one place. For a multi-region itinerary, consider an international SIM that allows you to assign either an American or foreign number to your device. Well Kept Wallet's Josh Patoka and The Droid Guy list several apps that offer free or cheap messaging and international calls:
Skype
Viber
FaceTime
Google Duo
Vonage Mobile
Tango
WeChat
Facebook Messenger
Smart Strategies for Savvy Usage
Many people attempt to balance technology's advantages with responsible use. Honeymoons are no different, especially since you could shortchange yourself if you're glued to your phone or laptop. Yet if you set your limits early and practice good advice for saving money and staying safe, you'll avoid these pitfalls and enjoy your time with your new spouse.