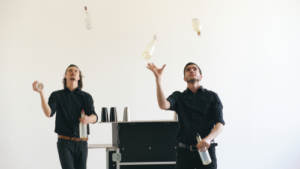 If the wedding ceremony is a respectful commemoration of a couple's commitment, then the reception is the afterparty. Most have all the essential ingredients for a memorable evening: food, music, dancing or games, and of course, alcohol. For the last item on that list, you need both a thoughtfully curated choice of drinks and a skilled person to serve them. Mobile bartenders are now in demand, putting their talents to use in a wide range of venues. When choosing a vendor for your big day, it's important to follow some wise advice.
What Is Mobile Bartending?
The concept behind mobile bartending is simple. Brides writer Danielle Deavens describes typical portable bar setups, which include all the alcohol, garnishes, cocktail ingredients, glassware, and tools needed for catering to clients. Mobile bars are experiencing a spike in popularity, partly thanks to trends such as signature drinks and craft cocktails.
Sure, your caterer could also handle drinks and bartending services. However, a separate mobile bar vendor may be a better choice in certain scenarios:
Your reception takes place at an outdoor venue.
You're hosting a wedding with a cocktail-focused theme.
You want to offer guests a signature drink.
A mobile bar would best fit your event's aesthetic.
Mobile bars' advantages stand out most in these key areas because of their moveable setups and specialty menus. Martha Stewart Weddings describes themed bar examples such as retro mid-century campers, three-wheeled wagons, Old West chuck wagons, vintage milk trucks, tour buses, and champagne carts. Some companies may use flair bartenders who entertain guests with visually stunning techniques and trick moves while preparing drinks. A Kuma Films YouTube video featuring Taiwanese bartender Pso Hseng Hsu shows an example of extreme flairtending.
Things To Consider Before Hiring a Mobile Bar
Planning a wedding involves coordinating several different components to create a cohesive event. You're working with multiple vendors, so it's important to make sure you understand their contracts and policies. That's especially true when it comes to your caterer and venue. If your reception location has onsite food service, it may not allow you to hire outside caterers or mobile bars.
Your jurisdiction could also have laws restricting open containers or serving alcohol at parks, beaches, historic landmarks, and other public places. Some houses of worship prohibit alcohol consumption on their premises. Do your homework first to ensure you don't run afoul of these laws or policies.
Helpful Tips for Choosing the Right Vendor
Like hiring any other type of vendor, selecting the best mobile bar provider requires careful research and evaluation. If you've hired a wedding planner, start your search by consulting with that person. Your planner should know plenty of vendors either by reputation or working with them personally. You should also check out online reviews from previous clients to get an idea of each company's history and quality of service.
Thumbtack offers great advice for hiring independent bartenders, but some of it can also apply to choosing a mobile bar service. Both the company itself and its staff must have the proper state and local licenses to operate and serve drinks. You should also have a basic drink selection in mind when you interview vendors. Other details you'll want to discuss with prospective companies include dress code requirements and how their bartenders will handle intoxicated guests. Finally, don't forget to thoroughly review contracts and policies before signing or paying deposits.
Your wedding guests may not recall the flowers that decorated the altar, but they will remember the quality and selection of your beverages. Offering a mobile bar is an excellent way to craft a positive and memorable experience. Understand your needs and consider each vendor carefully to ensure that you and your guests receive the best possible service.