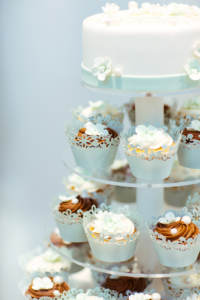 Worried about the cost of your wedding cake? You're not alone. According to Wedding Wire, national average wedding cake prices ranges between $300 and $700. With a median total wedding cost of $28,400 among LGBTQ couples, a few hundred dollars may seem like a drop in the bucket. Yet for others trying to fund their events for $5,000 or less, wedding cakes can comprise larger chunks of their total expenses. Fortunately, you don't have to completely give up on dessert. With a few wise choices and tips, you can save money and still please your guests.
A Breakdown of Your Cake's Components
To make wise decisions about your cake, it's important to understand the factors that impact its cost. Zola's wedding cake guide describes these key characteristics:
Size, in dimensions and number of tiers
Shape, with round and square cakes cheaper than other forms
Cake, filling, and frosting ingredients
Frosting types
Logically, larger cakes may cost more because of their volume and greater quantities of ingredients. Fondant prices out higher than buttercream, as The Spruce Eats explains, because it's more expensive and labor intensive to make. Ingredients affect the final cost, especially if you request unusual, exotic, or out-of-season foods. Besides edible elements, the final cost of a wedding cake can also include cake stands and displays, cutting utensils, toppers, and decorations. Some couples also elect to purchase an extra top layer to enjoy on their first anniversaries.
When It Comes to Pricing, Size Does Matter
As The Spruce's Stacy Fisher points out, choosing a smaller cake size can help bring the price tag down. That's because many bakers charge by the slice, so you pay less by buying confections with fewer slices. Yet this can become a problem if you're hosting a large crowd at your wedding. Both Fisher and Wedding Wire's Stephanie Weers suggest selecting a small decorative cake for the cutting ceremony along with a larger sheet cake that's sliced and served for your guests. Weers, Fisher, and The Knot also recommend slimmer slices to make your cake stretch further. For instance, you'd order a cake for 50 if you have 100 invitees and cut into "half-servings" that everyone can enjoy.
Choose Your Ingredients Wisely
Choosing less expensive cake frosting, filling, and flavors can also make your cake cheaper. However, the rationale behind your choices may become less straightforward than you think. Wedding Wire's Stephanie Hallett describes fondant as a thick clay-like icing that's easily sculpted and has an intense candy-like flavor that may be too sweet for many people. Buttercream, on the other hand, usually consists of confectioner's sugar, flavoring, butter or shortening, and egg whites. This makes it less expensive, easy to spread, and with a more pleasant flavor, but it can melt more quickly in high heat and humidity.
Similar considerations exist for cake flavors and fillings. Simple ingredients can take on an air of elegance. One example is a "tuxedo" style cake, composed of chocolate marble cake and chocolate ganache dripped over vanilla buttercream. Such effects can be accomplished without edible gold, hand painting, sugar flowers, or other complex details. Meanwhile, natural embellishments could be incorporated without significantly increasing your cake's price. Fresh fruit toppings, food-safe flowers, simple piped buttercream accents, nuts, gourmet candies, and even chocolate-covered coffee beans are a few creative ideas.
Cut Costs Without Sacrificing Flavor
Many couples struggle to create meaningful personalized weddings without overspending and creating excess debt. With many intricate sky-high sugary towers on Pinterest and Instagram, it's easy to wonder whether your inexpensive version will measure up. Several components impact a wedding cake's total price. An understanding of how these work to craft your creation may help you determine how to budget and still serve a dessert that your guests will love.