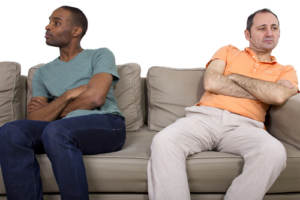 Planning for a wedding can be a somewhat stressful process. Though you are working to put together an event that celebrates the love you share with your partner, tensions can run high while you're ironing out all the details. More often than not, your partner is going to be the one you bump heads with the most. In order to keep your cool and maintain peace, it can be useful to explore different ways to cut through the strife and find a resolution you can both be satisfied with.
Take some stress from your shoulders and look over these simple suggestions for how to resolve issues with your partner while planning for your big day. With a bit of help, you may be able to minimize any disagreements and strengthen your relationship along the way.
A Two-Way Street
There are a number of reasons you may feel anxious while planning for your nuptials. For many, frustration comes down to not being able to put together the event exactly the way it has been pictured. You might have been envisioning your perfect wedding since long before you met your partner. Unfortunately, your partner might also have some very strong opinions on how the wedding should look. This can easily lead to a bit of conflict, which will only make matters worse if you can't find a sensible resolution.
Remember that getting ready for your big day is something of a two-way street. You need to learn how to compromise, especially over aspects of the wedding that you don't feel as strongly about. Before getting into the thick of things, sit down and have a conversation with your significant other. Talk about what you both would like to see from your big day and try to work on a plan that will give a bit of satisfaction to all parties involved.
Important Agreements
Debating over specific factors might be unavoidable. Still, there are key aspects of your big day you are going to need to agree upon in a shorter time frame than others. Setting a date, for example, is a crucial aspect of planning. If you and your partner spend a lot of time going back and forth over the ideal wedding date, you could discover all your desired venues have been booked by the time you've chosen a day.
There are a handful of key decisions you will want to make as early as possible. The date is one, but you also should try to select your venue and settle your guest list as soon as you can. While a bit of healthy discussion over floral arrangements and appetizers might be par for the course, dragging your feet on decisions like choosing a venue can easily disrupt your entire plan and force you to delay tying the knot.
Enjoy the Process
Finally, try not to take the process so seriously. It might be a big deal, but your relationship is far more important than one milestone event. Have fun while planning and keep a sense of levity about you. This, ultimately, will help you and your partner enjoy the process and remember why you both decided to get engaged in the first place. Your schedules might be a bit booked with planning activities, but try to find time to spend together so you can enjoy a little bit of the time you have left as a non-married couple.
Getting ready for an important event like your wedding might be stressful, but that doesn't mean you need to sour your relationship while going through the thick of the process. Keep your cool, learn to compromise, and enjoy yourself along the way to the start of your next big journey.