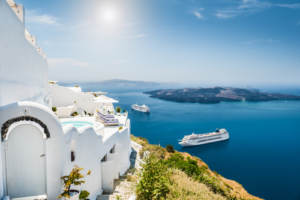 There's nothing quite as romantic or picturesque as the open sea. Breathtaking beauty exists in the Caribbean's turquoise waters, the open blue expanses around Alaska, or the seemingly endless azure waves off the California coastline. With such majestic scenery as a backdrop, saying "I do" aboard a cruise ship can be a rewarding experience. However, you must plan wisely to make this dream come true. 
Is a Cruise Wedding Right for You?
Wedding Wire's Kim Forrest explains that cruise weddings can be ideal in certain circumstances. They're perfect for couples who are easygoing about details such as flowers and music. That's because cruise ship ceremonies are generally simpler than other weddings, even more so than destination affairs that take place on land. While you can create a memorable event, you'll be limited by what the cruise line can offer.
Just like destination weddings, you'll probably benefit the most from a smaller guest list. The Knot advises that only 50% of invited guests usually attend destination weddings due to the travel time and expenses involved. You can even decide not to have guests at all, depending on your preferences.
Research Cruise Lines and Options
To ensure that your cruise ship wedding goes well, you must choose the best cruise company and destination that suits your needs. Afar's Anne Kalosh mentions that many companies offer specialized event packages and professional planners to help couples make their arrangements. These deals range from intimate ceremonies with champagne toasts to extravaganzas with live music and a full meal. Cruise Critic lists typical pricing structures, ranging from $1,400 to around $5,000.
While you check out cruise wedding packages, don't forget to research destinations. As an LGBTQ couple, it's a good idea to zero in on locations in which same-sex marriage is legal. This isn't typically an issue for cruises with ports of call in the United States, but you should be careful if you're headed to the Caribbean. Cruiseable discusses islands with marriage equality laws such as Puerto Rico, the U.S. Virgin Islands, Bonaire, St. Eustatius, and Saba. The Cayman Islands recently legalized same-sex marriage, according to an April 2019 Reuters article. Other locations suggested by TripSavvy include St. Martin and Aruba.
Timing is also essential when planning your nuptials. If you head to the Caribbean, avoid hurricane season between June 1 and November 30. Alaskan cruises typically run from May to September. Travel + Leisure highlights domestic cruise options available during spring, fall, and winter.
Legal Issues To Consider
Depending on the cruise line you choose, you can either wed shipboard, on land at a port of call, or inside a chapel or ballroom on the boat. Regardless, you'll need to apply for your marriage license well in advance. Some states, including Florida, have a three-day waiting period before you can use your license and hold a marriage ceremony. On the other hand, foreign destinations may have residency requirements. As an alternative, you could marry on the ship or on land at your departure location or opt for a symbolic ceremony at one of your cruise's stops.
Also, your ceremony will need to be performed by a legally qualified officiant. The Spruce's Sheri Stritof clarifies that ship captains can only officiate if they're also judges, justices of the peace, ministers, or notary public officials. Frommer's adds that some cruise lines have their own designated officiants, saving you the effort of hiring one on your own.
Your Love Boat Awaits
Cruises are a viable vacation option, but they can also do double duty for weddings and honeymoons. For best results, start your planning early. Choose a package and destination that works best for you and don't forget to research applicable marriage laws. With this advice in mind, you can successfully craft an unforgettable wedding.