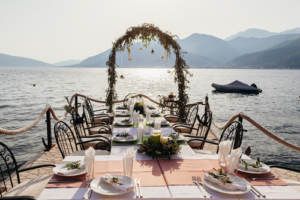 According to most sources, the average wedding costs around $29,000. While planning a local wedding, you must develop a sound budget and keep track of many expenses. That becomes even more crucial if you want a destination nuptial celebration. Naturally, you may also be concerned about whether you can afford to marry in a far-flung location. To help you figure out your options, it's important to understand the costs of a typical destination wedding.
What Is a Destination Wedding?
Wedding Wire's Kim Forrest points out that a destination wedding doesn't necessarily have to take place overseas or in a tropical location. The Knot reveals an interesting fact from its most recent Real Weddings study. Around 23% of couples held ceremonies 200 miles or farther from where they normally lived. Of those couples, around 78% chose locations within the United States. So if you live in Cleveland and decide to tie the knot in Chicago, that still fits the definition. After all, you still face similar planning challenges as when deciding to get hitched in St. Martin or Aruba.
Understanding the True Costs
NerdWallet's Courtney Jespersen mentions that the average destination wedding prices out at around $32,000. That's about $3,000 more than the usual hometown wedding, but many factors can contribute to the increased cost:
Travel and accommodations
Wedding planning services
Upgraded guest experiences
Jespersen adds that this figure isn't set in stone, however. Overseas celebrations may carry a lower overall price tag due to their smaller guest counts. On the other hand, spending per guest tends to be higher for nuptials in foreign locales. These costs can be driven by other key decisions. How much you spend on catering to your guests and other vendors you hire could make a significant difference.
Meanwhile, Kim Forrest explains that other usual items such as attire and décor may actually be cheaper with a destination wedding. Outdoor venues sometimes cost less, mainly due to their natural beauty reducing the need for decorations. Semi-formal or casual attire tends to be less expensive than its more formal counterparts, and it can be perfect for a park or beach ceremony. If your shindig is in the same resort as your honeymoon, it doesn't hurt to check for package deals that could save you money.
Budgeting for Your Special Day
Budgeting is a vital part of planning a destination wedding, so you'll need to take additional expenses into account. The Knot estimates additional travel costs for each couple at around $1,400 for an international celebration and about $500 for a stateside ceremony. Total expenses per guest average a little over $1,000 for domestic weddings and more than $2,600 for nuptials in foreign locations. You'll have to decide whether to help your guests pay for their travel accommodations and, if so, how much you can reasonably contribute.
To help get the most out of your trip, your best bet may be hiring a travel agent. The agent's fees will be an additional cost in your total budget, but you could save time and money with the right professional. Brides writer Sandy Malone lists scenarios in which a travel agent can be very helpful: foreign destinations, all-inclusive resorts, and guests who've never traveled far from home. Your agent should be in the know about necessary paperwork, regulations, and money-saving perks that could shave a little off your total costs. Fodor's Travel offers several suggestions for LGBTQ-friendly wedding destinations, but a savvy agent may also help you choose the best locale.
Cost-Conscious Weddings Require Sound Choices
Many people perceive that destination weddings are more expensive than locally hosted nuptials. There's some truth to that, but how much you'll pay largely depends on the choices you make. Your guest count, destination, associated legal expenses, and any perks you choose will factor into your total budget.