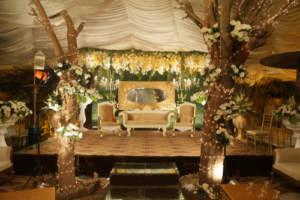 The Knot's Lauren Kay predicts that micro weddings will become a major trend in 2020. There are certainly many advantages to hosting a much smaller wedding: fewer details, a smaller budget, and less complicated planning. If you're limited by time, money, or your ability to face large crowds, a micro wedding may be the perfect way for you and your partner to tie the knot.
Key Details and Benefits
The micro wedding concept is pretty straightforward. It's simply a downsized version of a regular wedding, allowing the couple to concentrate on the details that matter most to them. Australian officiant and Huffington Post contributor Camille Abbott defines a micro wedding as having no more than 20 attendees, while Lauren Kay suggests an upper limit of 40 guests. The Knot's Maggie Seaver and Esther Lee describe it as having 50 guests or less, limited to only one's closest family and friends. Regardless of your exact guest count, the idea is to plan the exact opposite of a traditionally big affair. Instead of thinking big, you're thinking small.
Yet when it comes to a micro wedding, thinking small only applies to its size and scale. Your celebration can be as grand or low key as you like. Downsizing means you can focus on inviting your closest and most supportive family and friends. With a shorter guest list, you can choose a smaller venue and give your event an intimate atmosphere. You're free to spend more time with your guests than a larger celebration would permit. Because you have fewer details to wrangle, cost control is also easier.
Deal With Guest List Issues
Creating a micro wedding's guest list presents both advantages and challenges. Writing for WalletJoy, Christin Perry points out that you can leave out people like distant cousins, old acquaintances, and individuals you don't have close relationships with. On the other hand, you may end up with people who are offended or hurt because they aren't invited. Perry recommends briefly explaining your decision to host a smaller wedding and acknowledging hurt feelings with understanding and compassion.
Keep It Small and Simple
You don't need to stick to the bare necessities when designing your micro wedding. However, you should determine your priorities early in the planning process. A Practical Wedding's Victoria Grant speaks to a collaborative approach: sitting down with your partner and collectively deciding on the most important elements of your event. You could turn this into a "top three" list, as Grant and her wife did. Rely on these priorities to guide your decision-making. They'll also help you resist temptations to purchase extras that you don't need.
Staying within your budget is important, so Perry offers some helpful tips. A few strategically placed floral arrangements can create a simple and elegant look. Because you won't need traditional trappings such as linens and place cards, you can steer clear of expensive add-ons. Consider forgoing the typical multi-tiered cake: Try serving a simpler version instead or pick your favorite desserts for a sweet ending. You can dance if you want to, but you can skip the fancy dance floor and DJ. NerdWallet's Kelsey Sheehy describes a DIY approach with a curated playlist and good-quality sound equipment.
Your Wedding, Your Rules
Micro weddings are gaining popularity. While they can help budget-savvy couples save money, finances aren't the only motivation behind them. Many want to personalize their wedding experience, avoid complicated planning, or prioritize spending time with the people they care about most. Tailoring your event involves organization, focus, and a little discipline, but these will help you accomplish your goals. By setting your priorities early, creating your guest list wisely, and steering clear of unnecessary extras, you'll design an event that fits your vision and values.