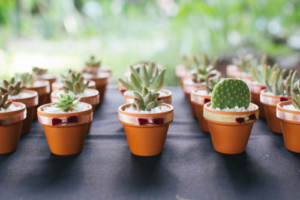 Let's face it: Wedding flowers can be expensive. According to Brides writers Heather Lee and Elizabeth Mitchell, flowers and floral arrangements make up around 10% of the typical wedding budget. Most couples shell out between $700 and $2,500 for their arrangements, but it's not uncommon to spend as much as $11,000. Maybe you're working with a tight budget or you'd rather spend those funds on something else. Either way, you can beautify your event for less with some wonderful alternatives to floral décor.
Go Green
Greenery can beef up your floral arrangements without beefing up your florist bill. The Knot mentions that lush leaves give them additional volume, but greens also fit in with many aesthetic types, including vintage, romantic, rustic, bohemian, and glam. If you need a refresher on wedding décor styles, check out this Easy Weddings style guide.
Pick Potted Plants
Brides' Heather Lee and Elizabeth Mitchell suggest potted plants as another inexpensive décor option. They're ideal for use as centerpieces and accents to brighten areas like walkways, empty corners, entryways, your guestbook table, or the gift table. You can arrange small pots of herbs or succulents into clusters, and single flowerpots can add eye-catching detail to your dining tables' centers. As a bonus, you can allow your guests to take the plants home.
Try Tempting Treats
Ready for a delectable table display? Martha Stewart Weddings' Jess Levin suggests using desserts as alternatives to full floral centerpieces. Mini cakes decorated with edible flowers, fruit, and greenery are one popular choice. As eye-catching and palate-pleasing treats, they can do double-duty on your dining tables. Bridal Guide shows more examples, such as a cupcake bouquet, petit four displays, lollipops arranged in vases, and mixed dessert displays.
Light Up Your Floral Spaces
If you've browsed Pinterest or wedding websites, you've probably seen how lighting can transform interior spaces. Thankfully, you have limitless aesthetic potential. Candles are a popular go-to for tables, but don't forget about their versatility. Tapers, pillars, and votives can all create stunning effects. No doubt you've seen string lights wrapped around trees, but they also offer endless decorative possibilities: draped from ceilings, mixed with garlands, or strung around columns. Brides writer Anna Price Olson provides many more suggestions for illuminating your floral décor.
Lanterns are another gorgeous option. Strategic placement in key spots illuminates your venue and adds elegant visual details. However, they're another chance for you to think outside the box. The Knot shows a vintage lantern festooned with flowers as a stunning alternative to a traditional bouquet. Lanterns can also work as centerpieces when paired with greenery or a few choice blooms.
Purpose Your Produce
Nature crafts stunning palettes of color, as you've seen in cornucopia displays filled with fruits and vegetables. Arranged in artful ways, produce can bring natural beauty and pops of color to your reception venue tables. DIY Network offers a few ideas: fruit displays in decorative urns, colorful vegetable bouquets mixed with greenery, fruit arranged on a two-tier cake stand, and berry branches in vases. Plenty more possibilities exist, and the variety of shades makes it easy to incorporate your wedding colors.
Add Some Antiques
You'd expect antique book displays at Hogwarts, but what about your reception space? Using a stack of classic books with framed quotes placed on top is just one idea. You can add other details like votives in glass holders to amp up the look. If your taste runs to other types of vintage décor, other possibilities include small antique objects like clocks, teapots, or jewelry boxes.
Planning a wedding presents many challenges, including sticking to a budget. Beauty can be found in unexpected places, and flowers aren't the only décor options. Lights, greenery, food, and other physical objects can be repurposed to create stunning looks in your ceremony and reception spaces.