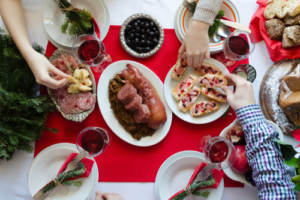 Gone are the days when every wedding featured a sit-down plated multicourse meal. As an engaged couple, you have plenty of food catering options for your big day. Family-style service is a popular alternative to pre-plated service, but is it right for your reception? Learning more about its features, perks, and downsides can help you make the best decision for your event.
The Basics of Family-Style Meal Service
Catered family-style meals work the same way as shared family meals at home. Entrees, sides, and other dishes arrive at each table in large serving platters with utensils. Diners choose the food they want and serve their plates. Martha Stewart Weddings' Lauren Wellbank explains that many couples like family-style service because it offers the best features of plated meals and buffets. Guests select what they want, but they don't need to leave the table.
Efficiency, Community, and Affordability
Family-style meal service offers many benefits. Wedding Wire's Lauren Rodrigue mentions that it's often cheaper than pre-plated meals. Because you don't need as many wait staff to help your guests, labor costs are much lower. Since guests don't need to pre-select their meals, you also don't have to print or keep track of meal cards.
Wellbank points out that family-style service is more efficient. Your guests don't have to navigate long buffet lines, and a small group of servers can bring food to every table. It also encourages a more intimate environment and provides more conversation opportunities. If you have lots of guests who don't know each other, a family-style meal can help them relax, enjoy the food, and maybe meet new friends.
Catering Considerations
Family-style meal service offers some great benefits, but it isn't the best choice for every reception. Guests with food allergies face the risk of cross-contamination, especially if serving utensils end up in the wrong platters. Teenagers and young adults have the highest risk of dying from fatal food-induced anaphylaxis, according to Food Allergy Research and Education. Cross-contamination is also a concern for vegetarians, vegans, and people with dietary restrictions.
Rodrigue and Wellbank point out other drawbacks to family-style service. Large platters of food take up more table room, so you'll need to scale back on your table décor. You'll also pay more to rent serving plates and utensils. Because your caterer will prepare surplus food, your total food costs may be higher. The surplus can also go to waste, so family-style may not be a good idea if you're hosting a green wedding. Fortunately, you can combat this by offering to-go containers to your guests or making arrangements to donate the surplus to a local charity. Check with your venue first to confirm whether you can take food off its premises.
Tips for Choosing Your Dinner Catering Service
Now that you know the pros and cons, you'll need to decide on your style of dinner service. Cost is likely your top consideration, but it's not the only deciding factor. If you have many guests with food allergies, you may want to accommodate them with pre-plated service. However, should you opt for family-style service, you can let them go first, just as you can if you choose buffet-style or food stations. With family-style service, don't forget to devise a plan for leftovers.
Your wedding reception is a party. As hosts, you and your spouse want to give your guests a positive experience. You make careful choices during the planning process, scrutinizing everything from the venue to entertainment. Family-style meal service is an excellent option for many couples, but you should consider both its pros and cons. With high-quality catering and proper execution, it creates a welcoming atmosphere for your guests to unwind.