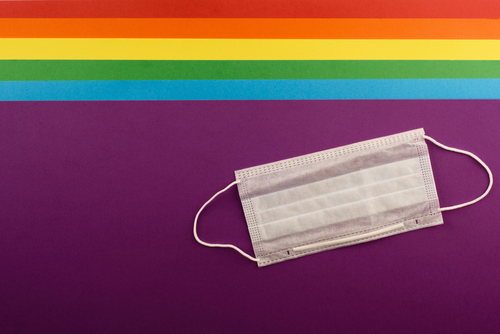 The COVID-19 pandemic has led to a number of dramatic shifts in how we celebrate annual events. Traditions surrounding Easter, Mother's Day, and academic graduations have all been put into a blender due to the restrictions of social isolation. As the continued impact of the novel coronavirus is felt, cities across America have begun making early decisions about large summer events. A majority of annual Pride festivities held over the course of June have been canceled, leaving many members of the LGBTQ community wondering how to compensate for this unprecedented shift. 
Since it was first inaugurated in New York City on June 28, 1970, Pride has marked a time when marginalized groups of people could freely march in the streets and feel heard, seen, and empowered. Just because the parades and dances have been canceled doesn't mean you have to let the spirit die. Consider these alternatives and find an appropriate way to show your colors.
Make a Donation
While the spread of the novel coronavirus has shed light on a number of serious inequities in the healthcare industry, it has also shown how many people live dangerously close to the poverty line. Within the first month of quarantine orders in the United States, 30 million citizens filed for unemployment. With resources stretched thin and the government moving at a slow pace to handle the threat, certain communities are suffering more than others. One way to celebrate Pride this year is by donating your money to an organization in need of some financial help.
Whether it is a local shelter for LGBTQ youth that is experiencing difficulty housing in-need individuals during quarantine or organizations aimed at helping victims of domestic abuse who are trapped indoors with their abusers at the moment, your money can make a powerful difference right now. Since you won't be handing over a small fortune for overpriced cocktails and cover fees for after-hour dances, you can use all of the cash you would otherwise spend during the festivities to help those in your community who are suffering.
Attend a Virtual Pride Event
Pride is a chance to be social with other members of the LGBTQ community. Whether celebrated in populated cities or rural towns, these events create a safe place for people to play, laugh, learn, and love. If you're yearning for social connection at a time when you're trapped indoors, a virtual Pride event might be the perfect option to pursue. Major cities like New York and San Francisco are already releasing details on when and how to get involved with these events, with more locations putting out information as the dates grow closer.
As with traditional Pride festivities, events will be held at various times throughout the month of June. Since the usual conflicts won't apply, it is likely that some cities will have events that overlap. For the first time, it will be possible to attend a Pride event in multiple states at the same time — not a bad way to look on the bright side of the situation.
Connect & Celebrate With Your Own Tribe
You don't need rainbow apparel, parades, or chats with strangers to celebrate what it means to be part of the LGBTQ world. In fact, the best way to celebrate Pride this year might be to connect with the people you consider your own tribe. Some might be a part of the community, others might be allies, but all are your people. Video conference, have some laughs and drinks, and feel appreciation for those who have walked with you along your own journey.
While Pride might take a different form this year, it is still an important time for the members of the LGBTQ community. Get creative with your approach and discover a way to celebrate that aligns with your own experience.