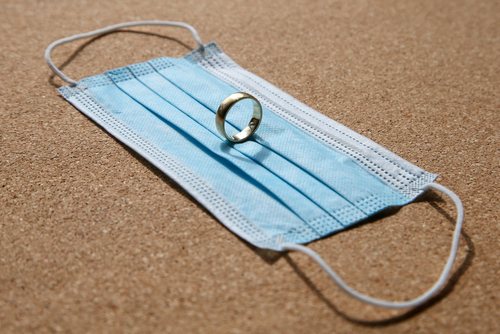 So, you've been asked to officiate your friends' wedding. Congratulations! It's both an honor and an enriching experience to help a couple create a meaningful occasion. COVID-19 has certainly complicated things, especially key social events. But with some smart tips and useful precautions, you can help your friends celebrate and stay safe.
Your Important First Steps
As an officiant, many of your responsibilities haven't changed during the pandemic. The Monastery's guide to performing weddings mentions three things you must do to prepare for your friends' ceremony:
Get ordained online.
Present your credentials to the appropriate authority.
Develop a ceremony script.
Sounds simple, right? The first part – filling out the ULC's online ordination form – is easy. Once your ordination is complete, you'll need to submit documentation to your local authorities. The process is a little different depending on where you live. For example, Ohio issues minister's licenses at the state level. Indiana, however, does not require such licensing. Other states have rules on a county-by-county basis, so check your jurisdiction for its requirements.
Some may let you submit ordination documents online, while others require them to be mailed in. Observe physical distancing protocols if you must visit your local government's offices. Keep at least 6 feet away from other people and wear a mask that covers both your nose and mouth. Also, be sure to register in plenty of time. Brides contributor Carolyn Hsu recommends getting ordained and registering at least nine months before the big day.
Choosing a Collaboration Space
You're ordained and registered as an officiant. Your next step is to help the couple craft their wedding ceremony. Fortunately, you can do this online. You can collab with your friends via email, but you may find other means just as helpful. TechRadar suggests choosing a platform that's accessible through both computers and mobile devices. Staying organized is also key, so select a platform with multiple features. At the very least, it should include word processing, a communications feature, and a calendar for keeping track of deadlines. TechRadar lists several collaboration platforms:
Slack
Podio
Asana
Trello
Flock
These five platforms all offer basic free monthly access. Free accounts aren't as feature-rich as paid subscriptions, but they offer plenty of functionality for you and the couple to communicate and collab. Some, such as Slack, also support free video conferencing. If none of these are to your liking, you may want to consider Google's collection of productivity apps. Google offers its Docs, Calendar, and Gmail services for free.
Building a Wedding Ceremony Script
Starting the planning process early is vital. The nine-month mark is also a great time to review the ceremony outline with the couple and discuss what they want. From their vision, you'll help create the ceremony script. You can use The Monastery's ceremony script generator as a starting point and then personalize as you see fit. There are many other ceremony script examples online, so you've got plenty of resources to draw from.
Hsu makes a couple of important recommendations for writing a script. First, don't forget to include required elements that make the marriage legal. This can be as simple as the marriage pronouncement, but some jurisdictions want specific wording in the vows – for instance, "I take you to be my lawfully wedded spouse." Once you've gotten those elements out of the way, focus on personalizing the script. Hsu adds that personal stories and sentiments go a long way toward making a ceremony meaningful.
Important Wedding Considerations
Can you officiate a wedding ceremony remotely? It depends on the local wedding laws, so check with the office issuing the marriage license. Thankfully, many tools make it easy to work with each other at a distance. Start prepping early, and be sure to follow legal requirements. Above all, remember physical distancing guidelines and other safety precautions. With your help, your friends will have a beautiful and memorable celebration.